Marten Johnston
1945-2009
Gentleman of tennis
Player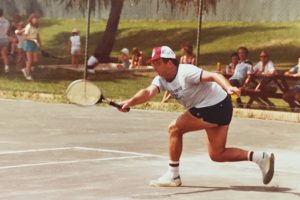 Marten Johnston was a proficient athlete in various other sports and not only in tennis. As a young man in Ireland he also played cricket, rugby and field hockey. When he left the UK for Canada in the mid-1960s on a career posting to this region, it was his love for the club atmosphere that drew him to the Waterloo Tennis Club where he became a member in the late 1970s. Marten was a competitive player at the club level. He represented WTC in the Inter-Urban league for many years and was almost always a regular presence in the latter rounds of the club championships and other club-level tournaments. He and our own Helen Nethercott were a mixed doubles team to be reckoned with. They won the Consolation A final in 1978 and were the club's B mixed champions in 1979. Marten also served as head coach of the University of Waterloo Men's tennis team during the 1990s for close to ten years.
Tennis coordinator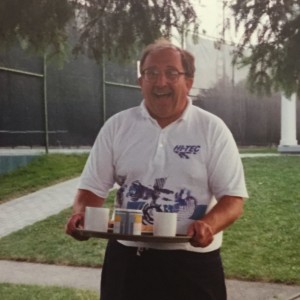 His affable nature combined with his knowledge and passion for tennis made Marten a natural tennis coordinator so when he gave up his business a few years after joining WTC he was hired by the club and became its Man Friday. He worked tirelessly arranging matches with players of similar skill levels and organized weekly round robins, notably the popular men's Saturday groups. He was a welcoming and friendly figure to all new
members, a quality greatly appreciated by members of the Vietnamese group whom he befriended as they adjusted to the different cultural environment. To the established members he was a reliable and reassuring presence. Marten also played a major part in ensuring the club tournaments and championships for both juniors and adults ran smoothly. He helped settle any conflicts that arose. From court bookings to questionable line calls, he resolved them quickly and diplomatically and always with a smile. Marten kept the players happy. He was there to help make sure that everyone enjoyed playing tennis as much as he did. With that booming, infectious laugh, and impish sense of humour, it was hard not to laugh along with him.

Maintenance manager
The maintenance of both the indoor and outdoor courts was a priority and source of pride for Marten. In the years when the bubble would come down announcing the arrival of summer, Marten was there to liaise with the university's workers to ensure that operations went smoothly. With the coming of each spring, Marten and helpers were kept busy putting up windscreens and preparing the courts for the outdoor season and he made sure the courts were properly maintained throughout the season. His duties extended to keeping the entire facility tidy. He worked to maintain a pleasant ambience for all members to enjoy their time at the club, whether they were playing or watching the action on court.