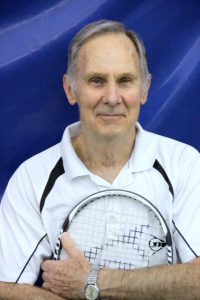 Mike Ratcliff
PROFESSIONAL TENNIS COACH
Mike Ratcliff has been instructing at the Waterloo Tennis Club since 1994. Mike began playing tennis at the age of twelve and in his later teens began playing amateur grass and clay court tournaments in Europe. As a top junior in England in 1964, Mike won the 1963 British Junior Indoor Double's Titles and the British Junior Singles Title in 1964.
A fan of all racquet sports, Mike won the Squash Championships in the 1980 Atlantic Open and has won tournaments outside of Canada.
In 1975, Mike became a part of helping tennis legend Billie Jean King make a comeback to professional tennis, creating the World Tennis Association Training Camp for women. During this time, Mike worked with future tennis star Martina Navratilova.
Loaded with tons of tennis strategy and technique experience, Mike's knowledge of the game helps those looking to improve their game or those who have picked up a racquet for the first time.
Mike is a fan of soccer and squash and looks forward to many more years of coaching at the Waterloo Tennis Club.
Mike plays with the Dunlop 2 Hundred AeroGel.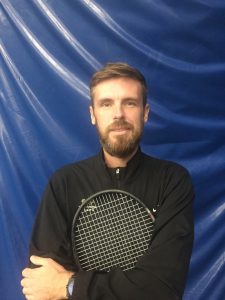 Martin Holy
PROFESSIONAL TENNIS COACH
Martin started playing tennis at the age of 5 and has been coaching for over 20 years in countries such as USA, Germany, Czech Republic and of course Canada.
In that time he has coached in Texas at the John Newcombe Tennis Ranch, working with their academy players who were either heading to university on scholarships, playing ITF Junior and Futures tournaments and some later played on the ATP Tour.
Following that he was a coach for a German player playing DTB and ITF Junior events before settling for a few years at the 5 star Inn at Manitou just north of Toronto.
In Czech Republic he worked with nationally ranked players as well as adults, coaching independently as well as working with tennis academies in Prague.
Martin is Tennis Canada certified and also received a coaching certification from RPT Europe/Academia Sanchez Casal in Barcelona.
As a player he has been ranked in the Top 10 in U16 and U18 in BC, Top 40 nationally in men's open singles and Top 10 in Ontario also in men's open singles.
Martin is on the Wilson Advisory Staff and plays with a Wilson Blade.
Mohsen Soleimanipour
PROFESSIONAL TENNIS COACH
Mohsen was born into a tennis family in Iran and has been teaching tennis full-time for more than 25 years. He has his educational background in Architecture but his passion for the sport and personal goals shifted his career towards tennis coaching. His tennis experience in Canada dates back to 2000 when he immigrated to Quebec and started working at different tennis clubs as a coach, head pro and club manager. He was a Quebec tennis champion 40 and over and ranked in top 10 Iranian tennis champions from 1996 to 1998.
Mohsen coaches all skill levels for any age from beginners through to advanced players. He always encourages people to play tennis even later in life. Everybody is welcome to his cheerful environment of tennis lessons. Joy and happiness are his keys for teaching and he uses them as his essential parameters in every single lesson.
Mohsen is a Tennis Canada Club Pro 2, a PTR Professional (USA), and also an ITF level 2 Coach. He plays with Wilson Blade racquet.
He was an Iranian former national basketball player and currently enjoys playing tennis and golf.
Ryan MacLean
PROFESSIONAL TENNIS COACH
Ryan has been playing tennis since the age of 12 where he started here at The Waterloo Tennis Club in the Gold program.
In May 2022 Ryan graduated from Spring Arbor University in Michigan with a business administration major and management minor. During his time there he played on the men's tennis team both singles and doubles where he finished with a 121-52 record.
Ryan started working in 2019 at The Waterloo Tennis Club doing jobs from summer camp coach to front desk staff, indoor/outdoor court maintenance to adult/junior coaching. Ryan has completed his Club Pro 1 certification through the TPA.
Ryan is the assistant coach for the University of Waterloo Men's and Women's Varsity tennis team where he helped lead both teams to 4th place finishes in 2022 at OUA's.
Ryan plays with the Wilson Pro Staff.
Milos Jovkovic
PROFESSIONAL TENNIS AND FITNESS COACH
Since 2015, Milos has experience of coaching high-performance juniors at the Waterloo Tennis Club to compete at provincial and national tournaments as well as the collegiate level. Milos has also trained varsity athletes at the University of Waterloo while completing his Masters in Kinesiology. Milos was a member of the men's basketball team at the University of Waterloo and has thoroughly enjoyed sharing his research and knowledge about athlete development with the next generation of Kitchener-Waterloo tennis players.
Milos is an ATP Certified Coach Level C with the Global Professional Tennis Coach Association and is continuing his education with Tennis Canada and the National Strength and Conditioning Association. He is also a fan of basketball and soccer.