Gary Winter
HEAD TENNIS PROFESSIONAL
Gary Winter is our head pro at the Waterloo Tennis Club and has been instructing here since October, 2009. He moved from Vancouver, BC where he coached for four years at the prestigious Vancouver Lawn Tennis Club. Gary was involved in all programs at Vancouver Lawn ranging from Progressive Tennis classes for juniors to junior recreational and high performance programs as well as adult recreational and competitive programs. Before that, Gary lived in Whistler, BC for fourteen years where he managed the health club at the Fairmont Chateau Whistler and was the Director of Tennis for the resort hotel. Gary has also worked as a program and communications coordinator with Tennis B.C. He has coached tennis at the University of British Columbia and led grassroots classes in various communities in BC. Gary continues to play seniors competitive tennis and won the 45+ Indoor Western Nationals Doubles title in 2006.
Gary is sponsored by Wilson. He is also a consultant for Dartfish, a software system for analyzing sport performance. Gary is an active member of Tennis Canada's Tennis Professionals Association. He is a Tennis Canada Coach 2 and is currently taking his Coach 3 certification course with Tennis Canada. Gary is also certified in the Progressive Tennis method.
Tennis is such an awesome sport and I constantly feel honoured that I have the opportunity to help kids and adults learn and get better at the game at all levels.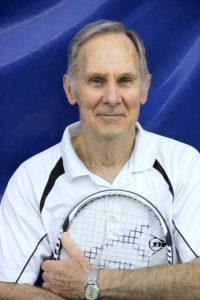 Mike Ratcliff
PROFESSIONAL TENNIS COACH
Mike Ratcliff has been instructing at the Waterloo Tennis Club since 1994. Mike began playing tennis at the age of twelve and in his later teens began playing amateur grass and clay court tournaments in Europe. As a top junior in England in 1964, Mike won the 1963 British Junior Indoor Double's Titles and the British Junior Singles Title in 1964.
A fan of all racquet sports, Mike won the Squash Championships in the 1980 Atlantic Open and has won tournaments outside of Canada.
In 1975, Mike became a part of helping tennis legend Billie Jean King make a comeback to professional tennis, creating the World Tennis Association Training Camp for women. During this time, Mike worked with future tennis star Martina Navratilova.
Loaded with tons of tennis strategy and technique experience, Mike's knowledge of the game helps those looking to improve their game or those who have picked up a racquet for the first time.
Mike is a fan of soccer and squash and looks forward to many more years of coaching at the Waterloo Tennis Club.
Mike plays with the Dunlop 2 Hundred AeroGel.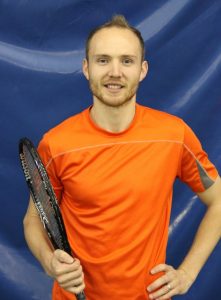 Robert Rotaru
PROFESSIONAL TENNIS COACH
Robert was born in Romania on August 21, 1987. His family moved to Canada in 1995 when he was 8 years old. Robert's father loved the sport of tennis and took him to the Waterloo Tennis Club for some lessons when he was 10 years old. Mike Ratcliff was his first coach and ignited his passion for the sport. After two years of determination and hard work Robert started playing tournaments. Robert made Team Ontario for the U14. His entire junior tennis career involved many hours of training on and off the court. He was rewarded by finishing his Junior Career ranked in the top 5 in Canada. In 2005, Robert attended the University of Louisville (a Division 1 school) on a tennis scholarship. When he started, his team was ranked top 30 in the country. With his help the team managed to reach the top 12 in the country. Robert has achieved a doubles ranking of 33 in the USA. After university in 2009, Robert started playing tennis professionally and since 2011 has been ranked in the 1500's on the ATP Tour. He is currently ranked in the Top 10 in Ontario along with Milos Raonic, Frank Dancevic and Peter Polansky.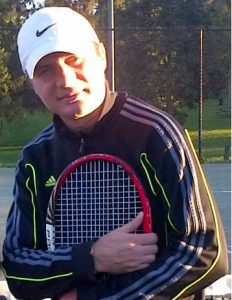 Ned Lazoja
PROFESSIONAL TENNIS COACH
Ned was born in Montenegro and competed in Junior tennis tournaments in former Yugoslavia. He resided in Vienna, Austria for four years where he continued to play competitively.
Ned moved to Canada in 1995, where he began coaching his kids at an early age which inspired him to pursue coaching programs. Ned is passionate about tennis and his mission is to grow the sport of tennis. He is a Tennis Canada Coach 2 pro. Ned plays with Head Prestige racquet.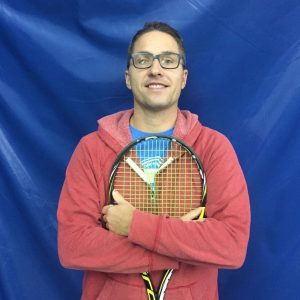 Dave Rowat
PROFESSIONAL TENNIS COACH
After last coaching at WTC in 2008, Dave has been teaching in Ft. Myers Florida as well as  currently being the head professional at the Fergus Tennis Club during the summer months.
Dave has coached all level of players from beginners to professional players with rankings as high as #55 on the WTA tour.
As a player he has been fortunate enough to represent Canada in the Men's 35 division at the World Championships in 2016 in South Africa.
He is looking forward to running group clinics and is also available for private and semi-private lessons.
Dave is a Tennis Canada Coach 2 pro as well as a USPTA Professional. He plays with a Babolat AeroPro Drive.